Muslim
Cemetery

of Central Florida (MCCF)

The Muslim Cemetery of Central Florida is a non-profit organization providing land for Muslim Burial in the Central Florida and Greater Orlando area. As a non-profit organization, our effort is to provide low-cost burial to all Muslims. The land is provided free of cost, you generally bear the cost of burial, which includes and funeral director's fee and associated expenses. We also provide financial assistance in case you are not able to pay for the burial cost.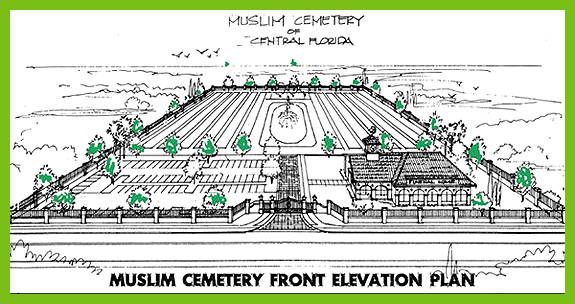 Project Manager
Br. Jamal Hassounih
Professional Engineer
407-383-9169
Public Relations
Dr. Saeed Ahmed
407-766-2424
Cemetery

Location

We signed a contract for 5+ acres of land, which will accommodate approximately 3700 Gravesites, Insha Allah. The County also pre-approved this land to be used as a Muslim cemetery. The site is located a few blocks from Masjid Al-Birr (4870 Old Tampa Hwy Rd. Kissimmee, FL 34758). The cemetery is strategically located in Osceola County, a few miles from Masjid Al-Sunnah, Darululoom, Masjid Al-Taqwa, Masjid Abu Bakr, and Jama Masjid. It is also close to I-4, Highway 417, Road 535, and Osceola Parkway. We are planning to have a Ghusl Area As well. In order for this project to be a success, we need your support. Please visit the donation page for information on making donations to this project. We would also encourage you to download the project brochure, print, and distribute it in your community.

This is an ongoing project undertaken by the Muslim Community in and around greater Orlando, Florida. Once completed, the cemetery will be open to all Muslims living in Orlando and the surrounding neighborhoods. It is estimated that there are over 50,000 Muslims living in these areas. A cemetery that is exclusively dedicated to Muslim burial, according to the Islamic rules and regulations, is greatly needed. There is a variety of fundraising activities going on about this project. We would like to invite you to become a part of this great cause and contribute in any way you can. We will periodically update this Website with upcoming events and activity, as well as the overall progress of the Project. Meanwhile, please sign-up for our email newsletter so we can be in touch.